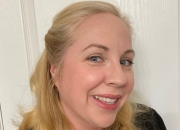 Sarah Buckner
Implementation Specialist
Overview
Sarah, a Registered Nurse, provided smoking cessation counselling and research services with the University of Ottawa Heart Institute's Quit Smoking Program before making the move to the Ottawa Model for Smoking Cessation in early 2020.
Prior to the Quit Smoking Program, Sarah delivered competent and compassionate nursing care in a variety of clinical settings, ranging from Inpatient Critical Care to Community Palliative Care.
While still active in clinical practice, Sarah's main focus currently is on her work with the Ottawa Model for Smoking Cessation. She draws on her previous nursing experiences to provide client centred support and services in her role as an Implementation Specialist.